Commitment to Ethics
All of us who work at Sociedad Matriz SM SAAM S.A. (SM SAAM) and its associated companies are responsible for what our Company is and the role we play in the societies that host us.
We invite you to review our Code of Ethics, which is articulated on the basis of our values of Honesty, Respect, Responsibility, Safety and Service, which are the ones that inspire our identity and culture.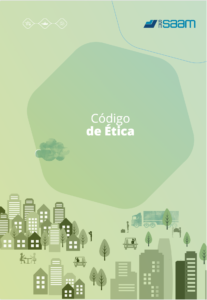 Donations, Sponsorships and Political Contributions
SM SAAM only makes donations in money or in kind, in accordance with existing laws in the territories in which it operates, for educational, cultural, sports, and social and socio-environmental development purposes, following in all aspects, without exception, the Policies and Current procedures. The donation of money or goods to people, entities or organizations for profit, as well as any payment through private or personal accounts, in national or foreign territory, is prohibited. Contributions to institutions whose objectives are inconsistent with our ethical principles and corporate values, or any contribution that could damage our reputation, are also not permitted.
SM SAAM does not finance activities classified as political or make contributions, in money or in kind, to parties, candidates for public office or their representatives, in any of the countries in which it operates.