Guayaquil: Largest Ship to Ever Dock at a Latin American Port Inaugurates Dredging Work to Deepen the Access Channel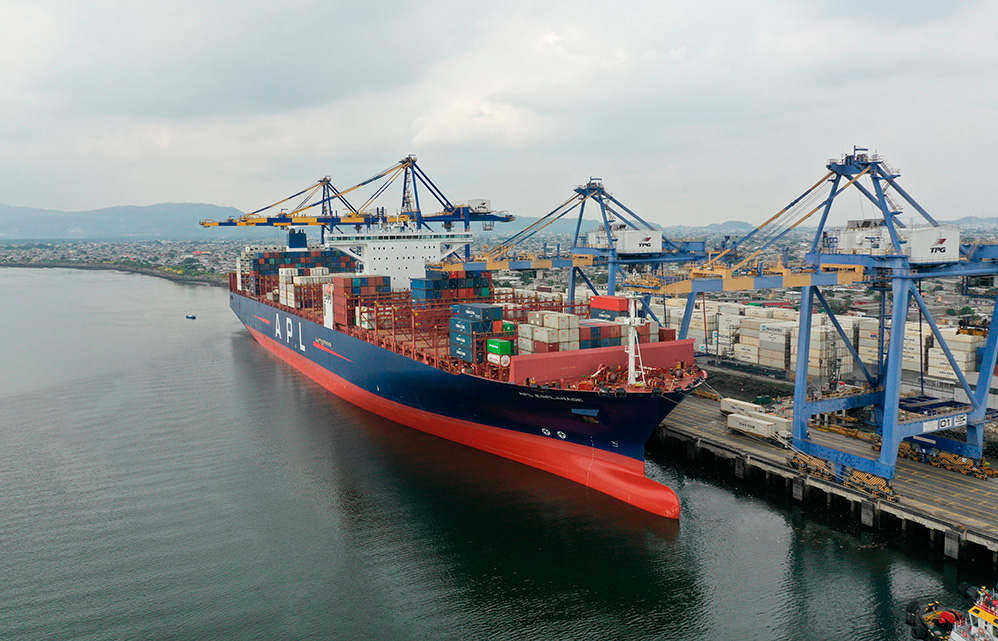 Spanning 368.82 meters in length and 51 meters in beam, the vessel APL Esplanade docked at Terminal Portuario Guayaquil thanks to recent work to deepen the berth.
Guayaquil, January 17, 2020 Terminal Portuario Guayaquil (TPG) achieved a record in Ecuadorian and regional port history by welcoming the largest vessel to ever dock at a Latin American port. The arrival of the APL Esplanade inaugurated the works to deepen the sea and estuary access channels that connect the sea buoy with the port terminals, marking a milestone for the city.
Operated by the shipping line CMA CGM, the Neopanamax-class vessel measures 368.82 meters in length and 51 m in beam. Equivalent in length to four soccer fields and as tall as a 15-story building, it boasts a cargo capacity of 14 thousand TEU.
The CEO of TPG, Luisenrique Navas, remarked, "The modernization work was key to the port receiving a vessel of this size. We invested USD 25 million, which prepared us to operate with the new dredging, the deepened berth, cranes and other works."
The executive added, "Our terminal represents 40% of Ecuador's throughput of import and export containers and moves an average of 16,500 TEUs each week. Therefore, what we are inaugurating today will, without a doubt, have a major impact on the Ecuadorian port system."
The dredging work was completed by Canal Guayaquil, a subsidiary of the Belgian company Jan De Nul, which will maintain the channel for the next 24 years. The company dredged the 92-kilometer channel and eliminated a rocky area known as Los Goles, which was an obstacle for ships. The channel was deepened from 9.5 meters to 12.5 meters or 13 meters, depending on the tides.
The mayor of Guayaquil, Cynthia Viteri, commented on the docking of the APL Esplanade: "This is a major milestone, which will go down in history for not only the city but also the entire country, because what Guayaquil does, it does for its country."
 ___
About TPG
Terminal Portuario Guayaquil is a private port operated by SAAM since 2006. It provides services at the foot of the Santa Ana Estuary in Isla Trinitaria, a suburb of the city of Guayaquil, Ecuador.
Its main containerized cargo includes bananas, shrimp and cocoa for export, as well as retail imports.
 ___
About SAAM
SAAM is a multinational corporation providing services for international trade through its three divisions: Port Terminals, Towage and Logistics.
With 58 years in business, SAAM has operations in 12 countries in North, Central and South America. It is one of the leading operators of port services in South America and of towage services in the world.