Transportation and Agriculture Ministers Inaugurate New Inspection Rooms at SAAM Logistics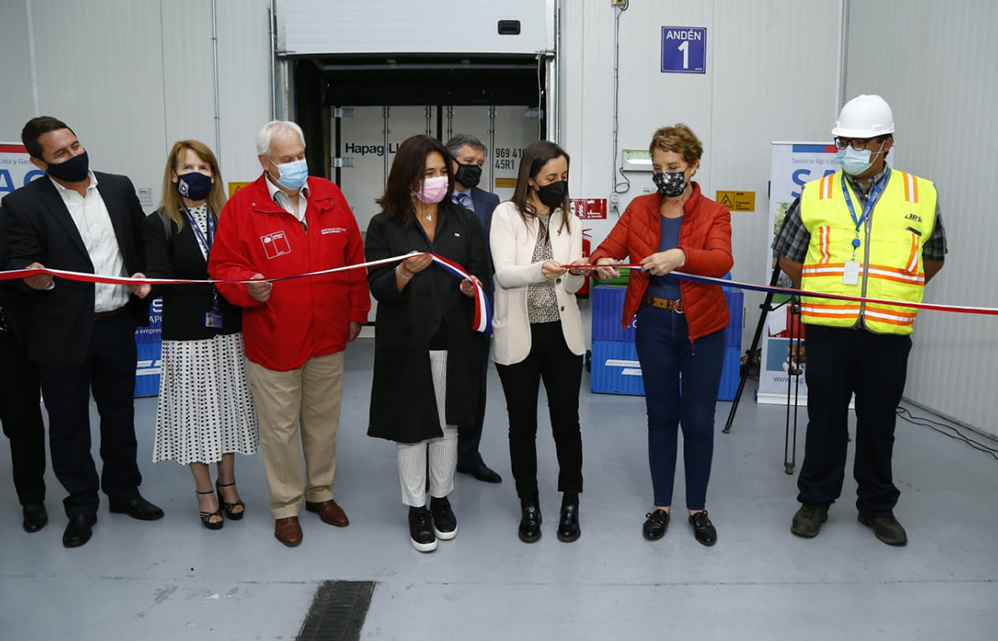 This is the first inspection center in Chile that meets the new SAG regulations for inspecting imports, exports and merchandise in transit.
San Antonio, December 3, 2021. SAAM's Bonded Warehouse in San Antonio welcomed Transportation Minister Gloria Hutt and Agriculture Minister María Emilia Undurraga to give them a first-hand look at SAAM Logistics's new inspection rooms, the first in the country to meet the new requirements from the Chilean Agriculture and Livestock Agency (SAG), on par with global standards.
These rooms will be used for general and frozen cargo, with an inspection chamber for fruit and red and white meats that ensures the necessary hygiene and temperature (where applicable) for these products.
Minister Undurraga commented, "The government is working collaboratively to streamline cargo movements from our country to other countries and for cargo arriving from those destinations. We would like to thank SAG, which is responsible for protecting our plant and animal wealth, one of our country's competitive advantages."
Minister Hutt emphasized that "the logistical challenges facing Chile are huge, partly because of the importance of foreign trade and how efficiently it takes place. Most of Chile's foreign trade passes through ports and it is very important for us to be competitive, for ports to perform efficiently and be comparable to more developed ports. That keeps us on the routes operated by the world's most important shipping lines and gives Chilean products advantages in foreign markets."
The CEO of SAAM Logistics Chile, Fernando Encinas, remarked, "We focus on providing services that act as a facilitator for our customers. With these new rooms, we can provide comprehensive services for importers and exporters with expedited, high-standard processes for foreign trade in strict coordination with oversight officials, all of which benefits our country's growth."
SAG National Director Horacio Bórquez was also present at the event, which included a tour of the new facilities. He explained that "We have plans to implement this same system at many other locations and are going to be able to streamline processes and spark a true evolution to reduce port delays for food products. We don't want these delays and want people to get the product as fast as possible both abroad and in Chile."
Technical Specs
The inspection chamber for general cargo is completely closed, which means that goods are reviewed in a fully hygienic environment, thus avoiding contamination. The inspection chamber for frozen food is also sealed and refrigerated to -5°C, thanks to its modern, efficient cooling system.
The rooms have four bays and their capacity can be expanded based on demand.
The project included training SAAM Logistics employees to manage the temperature in the rooms, a key factor to comply with the parameters required by regional Health Ministry officials and SAG, which are constantly controlled by the company's Quality Area.
____
SAAM is a multinational corporation providing services for international trade through its three divisions: Port Terminals, Towage and Logistics.
With 60 years in business, SAAM has operations in 14 countries in North, Central and South America, creating jobs for more than 8,500 employees.
It is the leading provider of towage services in the Americas and an important port and logistics operator in the region.