Two state-of-the-art cranes set sail from China destined for San Vicente Terminal Internacional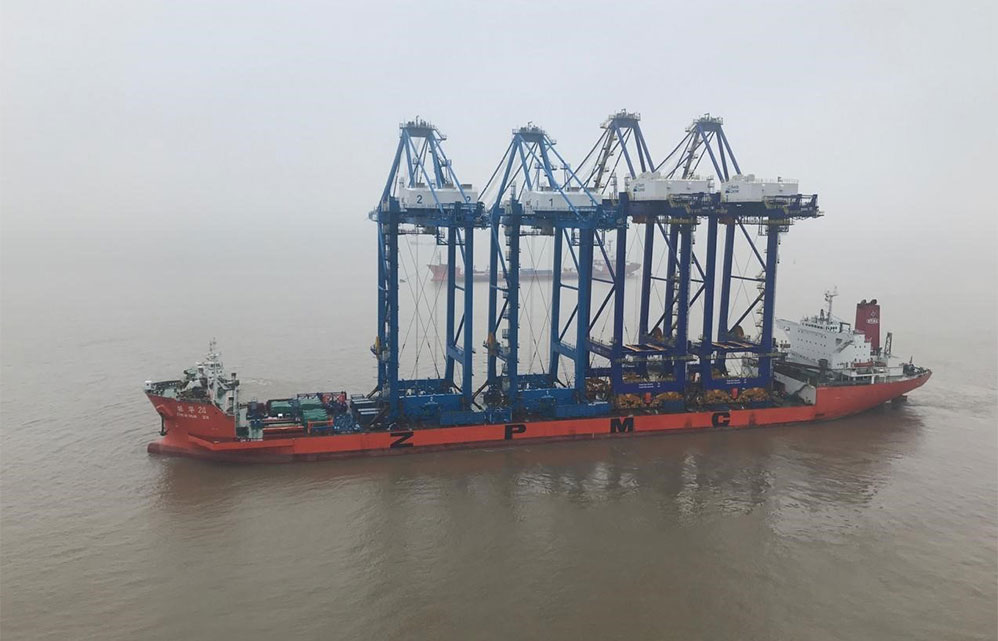 The new cranes will enable the concessionaire to serve larger ships and receive a greater number of ships at its docking site.
Santiago, January 04, 2019 Two new Ship-to-Shore (STS) cranes are scheduled to arrive at San Vicente Terminal Internacional (SVTI) in February, increasing the concessionaire's operating capacity with their ability to serve super post-Panamax ships with 50-meter beams.
The cranes have already left the ZPMC plant in China and are aboard the Zhen Hua 24, which set sail today and is expected to arrive in 38 days.
The new state-of-the-art cranes are similar to those at San Antonio Terminal Internacional (STI). Their noteworthy size and technical characteristics significantly shorten loading cycles in comparison to land cranes.
Eighty meters high—approximately the height of a 26-story building— the cranes have a 100-ton lifting capacity from the cargo hook and a reach of 62 meters (about 22 rows of containers), making it possible to serve the wider-beam ships that are arriving in the region with increasing frequency.
"The arrival of these cranes at our terminal is great news for the zone. They are designed to achieve an operational performance much greater than our current performance. In addition to serving larger ships, these cranes make it possible to receive a greater number of ships at our docking site," said SVTI Chief Executive Officer, Gonzalo Fuentes.
"This investment is certainly going to help us improve the safety of our operations and the competitiveness of the terminal, which we hope will impact customer experience," he said about the acquisition of the cranes. The US$20 million deal was made two years ago.