SAAM collaborates in the construction of Romero Solar photovoltaic farm with a special logistics plan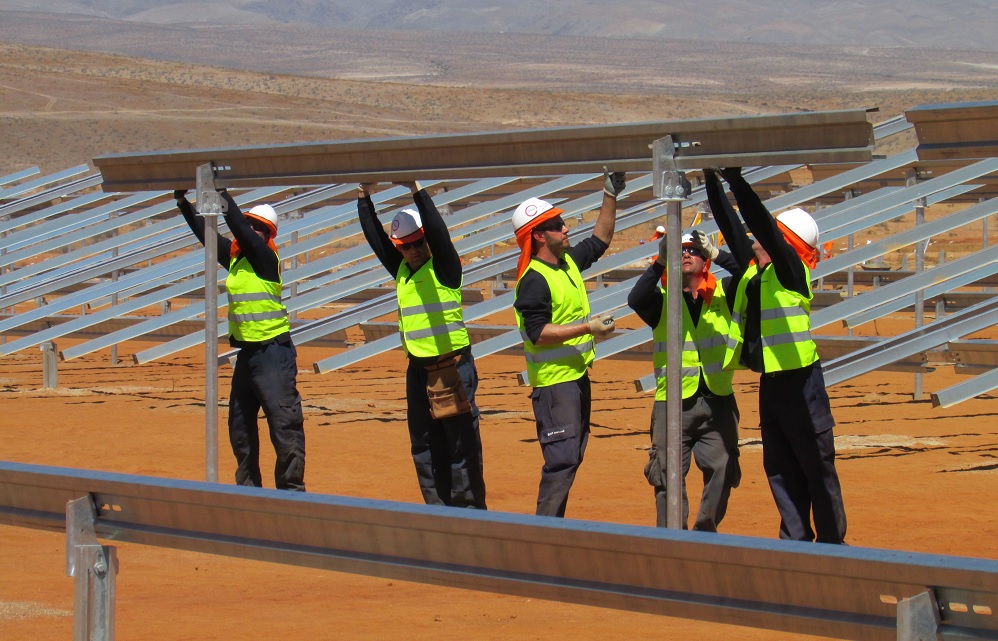 The company collaborates with the logistics of over 1,200 containers transporting thousands of solar modules for the solar power generating plant being built in the Atacama Desert, one of the largest plants in the world.
Santiago, August 31, 2016. SAAM implemented a special logistics plan to help in the construction of Parque Romero Solar (196 MW) of 'Acciona Energía', which contemplates the installation of more than 700 thousand polycrystalline silicon photovoltaic modules in the middle of the Atacama Desert, structures that must be transported from Valparaiso Region.
For this reason, since February last, SAAM Logistics Division is providing a comprehensive inbound service, i.e., from the moment the equipment reaches port until delivery of the containers at destination (client's plant), and their return, empty, to their original depot.
"Due to the dimension of this project, which will be the largest solar plant in Latin America, we developed a special design for its logistics. It consists in the entry into the country and subsequent transportation of more than 1,200 containers with panels and their supports, which must travel more than 600 kilometers to reach their destination, journey that takes 2 days. Romero Solar will have a collection area of 1.5 million m2, equivalent to 211 professional football fields", stated Francisco Quintana, Business Manager of SAAM Logística.
The process includes coordinating the removal of the containers upon their arrival to the port; transportation of the containers from the port to SAAM's Intermodal terminal (Valparaiso or San Antonio); shipping to El Romeral plant (Cachiyuyo), reporting journeys on route and arrival of the truck to the plant; unloading process and return trip of the truck.
"Daily, we must coordinate between 30 and 45 trucks that are: going in caravan to their destination, being loaded, or on their way back. We have already transported 900 containers and we expect to complete deliveries in January or February," added Quintana.
SAAM is a worldwide Chilean Company, with an experience of 55 years and more than 10,000 workers. It is present in 15 countries in the Americas, through port terminal, towage and logistics operations.