SAAM Closes 2022 with Solid Results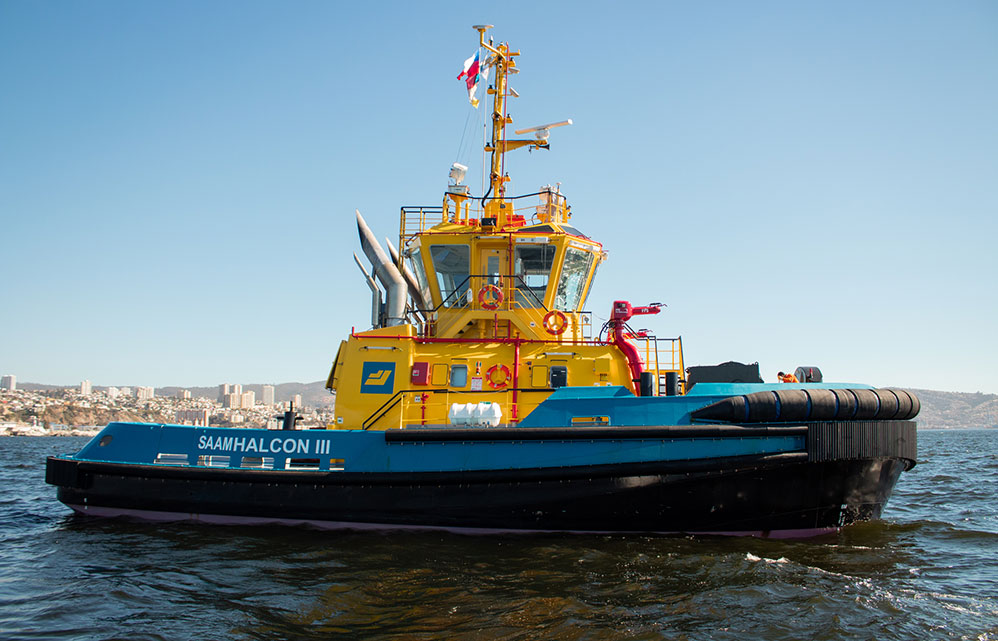 Comparable net income reached US$ 81.8 million, a record performance for the company due to asset diversification and new projects.
Santiago, March 10, 2023. SAAM [SM SAAM] reported comparable net income of US$ 81.8 million for 2022, which represents a 4% increase over 2021 and excludes US$ 33.6 million in extraordinary accounting effects from a binding agreement to sell the port terminal and associated logistics operations to Hapag-Lloyd.
Sales totaled US$ 838.7 million and consolidated EBITDA was US$ 280.9 million, surpassing the prior year by 12% and 5%, respectively.
"This year will leave a mark on SAAM's history not only because of the signing of the binding agreement to sell part of our assets to one of the leading global shipping companies, but also because of the substantial progress we made with SAAM Towage, adding new tugs and completing important acquisitions in line with the strategy of leading the industry consolidation process. Closing this transaction will allow us to continue down this path," said SAAM's CEO, Macario Valdés.
The final quarter of last year saw economic slowdown and increased inflationary pressures, fuel prices and personnel costs. Both sea and air cargo volumes continued to decline in South America.
SAAM will continue to manage the towage and air logistics operations after closing the deal. These continuing operations closed 2022 with US$ 461.8 million in revenue, up 13% from the previous year. For 4Q22, the Towage Division reported sales of US$ 390.3 million (+15%) and EBITDA of US$ 136.0 million (-1%).
The discontinued operations, which include port terminals and ground logistics, reported an 11% rise in revenue to US$ 378.0 million. For the fourth quarter, the Port Terminals Division had sales of US$ 317.5 million (+13% with respect to the same quarter last year) and EBITDA of US$ 116.2 million (+10%).
SAAM's Board of Directors agreed to propose a dividend of US$ 48.2 million at the company's annual general meeting. This is equivalent to 59% of comparable net income and, if approved, will be the largest dividend distributed in the company's history.
2022 Milestones
In addition to the deal with Hapag-Lloyd, other milestones for 2022 include the acquisitions of Standard Towing and Davies Tugboats operations (Canada), Starnav tugboats (Brazil) and the Ian Taylor towage operations (Peru).
It also closed an agreement with mining company Teck and Neptune Terminals to operate the first two fully electric tugs in the Port of Vancouver in Canada.
In air cargo logistics, it acquired a minority stake in Aerosan in Ecuador, thus reaching 100% ownership. In January 2023, the company announced the acquisition of Pertraly, an airport cargo management company in Ecuador. This deal is subject to regulatory approval and other customary conditions for this type of transaction.
The company also made progress in implementing the +Safety strategy in its operations, with significant advances, especially in terms of safety leadership and management of high-potential exposures.
____
SAAM is a multinational corporation providing services for international trade through its four business areas: Port Terminals, Towage, Ground Logistics and Air Cargo Logistics (Aerosan).
With over 60 years in business, SAAM has operations in 14 countries in North, Central and South America, creating jobs for more than 8,000 employees.
It is the leading provider of towage services in the Americas and an important port and logistics operator in the region.