SAAM Reports 91% Growth in Net Income in 2018 and Company Moves Forward with New Operating Model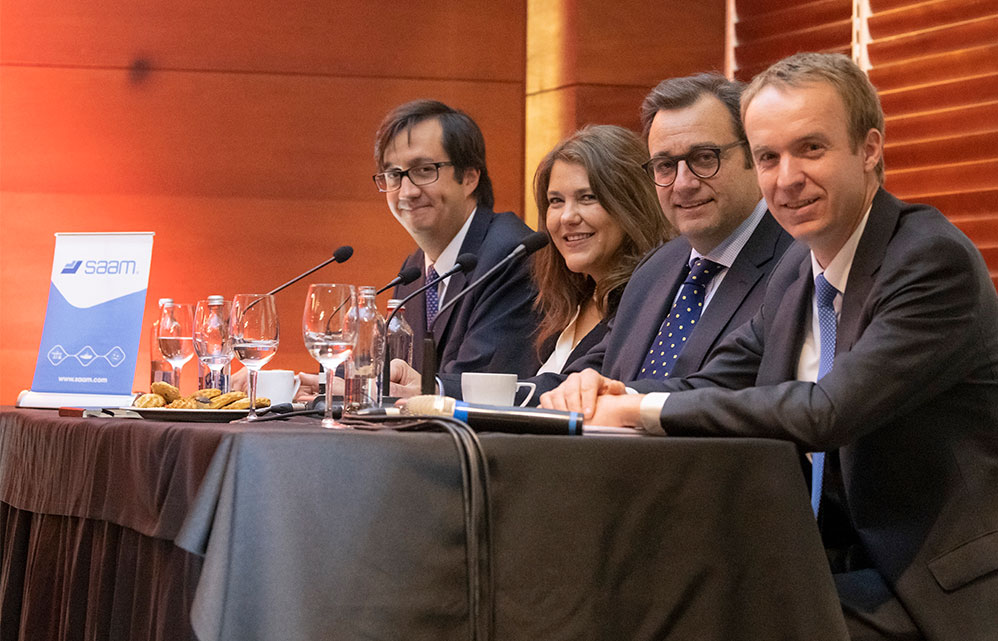 Chairman Óscar Hasbún highlighted the Company's strong performance with net income of US$ 49.6 million, changes in its management strategy and an agreement with Boskalis to acquire the entire towage joint venture.
Santiago, April 5, 2019. At SAAM's Annual General Shareholders' Meeting this morning, the Company positively evaluated its performance during 2018 in a setting that continues to be marked by the consolidation of the shipping industry.
Last year, the Company -provider of port, towage and logistics services in 12 countries in the Americas- reported net income of US$ 49.6 million. This figure is 16% less than in 2017, explained mainly by a high basis of comparison following the sale of a minority interest in Tramarsa (Peru) in 2017 for US$ 26 million and some non-recurring effects in 2018 (dividends from TPA and costs of implementing the new operating model). Excluding these effects, net income was up 91% over the prior year.
Sales totaled US$ 515 million (10% more than last year), while Ebitda was US$ 146 million (up 25%).
"Management efforts have played a key role in these results. However, they were also impacted by the change in our operating model, which simplified our organizational structure to generate synergies, standardize processes and build a more robust central corporate office in order to better handle market volatility and our industry's complex environment," commented SAAM's Chairman, Óscar Hasbún.
He also touched on the agreement announced in February for US$ 201 million to acquire the entire towage joint venture from Boskalis, "where we see a good opportunity to be leaders given the industry's current consolidation process." "We are on good footing and prepared, thanks to this new operating model, to continue growing and consolidating our leadership in Chile and the region," he added.
This year SAAM will invest around US$ 80 million mainly to maintain infrastructure and equipment in the port terminals and towage divisions.
Some of the highlights in 2018 include signing a Memorandum of Understanding to develop a RoRo terminal in Alabama (United States); achieving record transfer figures at terminals in Guayaquil (Ecuador), Caldera (Costa Rica), San Antonio and Corral (Chile); inaugurating new infrastructure at the ports operated by the Company in Costa Rica and the US, and purchasing 50% of Transaéreo. In addition, SAAM has been listed on the Dow Jones Sustainability Index Chile for the third straight year and is also now on the DJSI MILA.
At the meeting, shareholders agreed to distribute a dividend of US$2 per share, totaling US$ 29 million, or 58.91% of net income in 2018.
__
SAAM is a regional corporation providing services for international trade through its three divisions: Port Terminals, Towage and Logistics. With 57 years in business, SAAM has operations in 12 countries in North, Central and South America, creating jobs for more than 7 thousand employees. It is one of the leading operators of port and towage services on the continent.