STI Boosts Operations with New Reach Stackers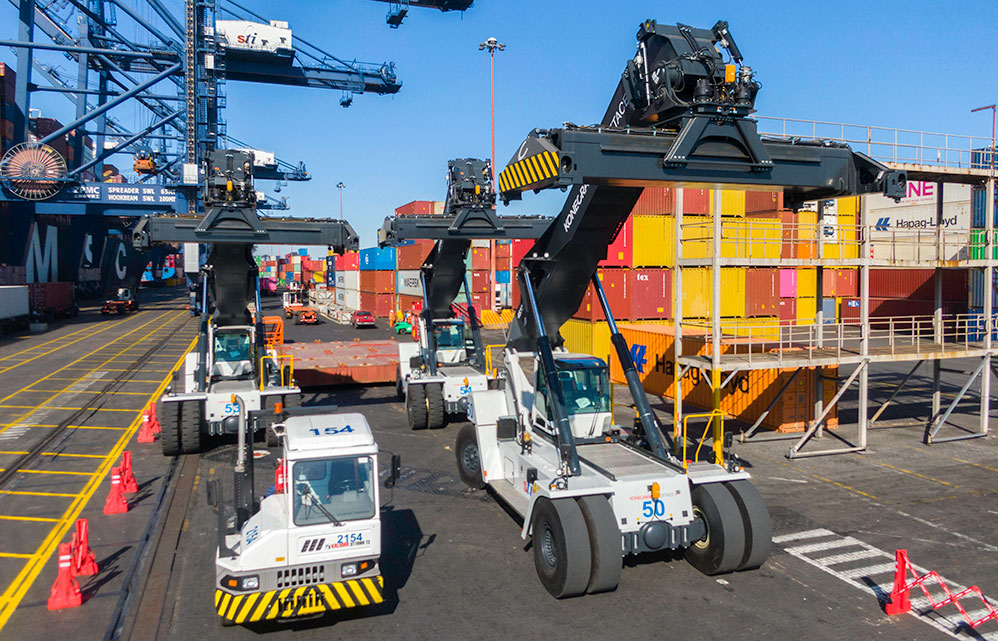 The new machines, a portion of the investment commitments to extend the concession term until 2030, are already being used in operations.
San Antonio, August 2022. San Antonio Terminal Internacional (STI) received the first six reachstackers of a total of nine to strengthen its operations in the port's yards. The machines are part of the US$ 46.5 million in investment commitments to extend the term of the concession until 2030. Other equipment to be added to the terminal's fleet includes two STS Super Post Panamax cranes, two Rubber Tyred Gantry cranes and 26 terminal tractors.
"We continue to move forward with our plan, which has allowed us to raise efficiency, improve safety conditions for our workers and operate more environmentally friendly machines. As a result, we are laying a sustainable foundation for the future of the country's leading port terminal," said STI CEO, Rodrigo Galleguillos.
Workers also celebrated the arrival of the new reachstackers. "At STI more than 100 port operators drive this type of equipment and these new machines improve safety conditions for them all. We are extremely pleased with the process since we were given the opportunity to provide feedback in selecting these reachstackers," commented reach stacker monitor Héctor Vidal.
Technical Specs
These lift trucks from Finnish manufacturer Konecranes are equipped with comfortable cabins and fire suppression technology. They also have certified low-emissions engines that guarantee a smaller environmental impact.
They boast a lifting capacity of 45 tons and a telescopic arm that can stack up to five containers high. The cabins also feature an easy-to-use touch screen and climate control.
The other equipment is expected to join the fleet in the last quarter of 2022 and first quarter of 2023.
In April, STI also committed to an additional US$ 9 million in investments to complement the concession extension. This will add another 10 reachstackers, 1 toplift crane and 24 terminal tractors.