SVTI Receives Two State-of-the-Art Cranes To Enhance Operations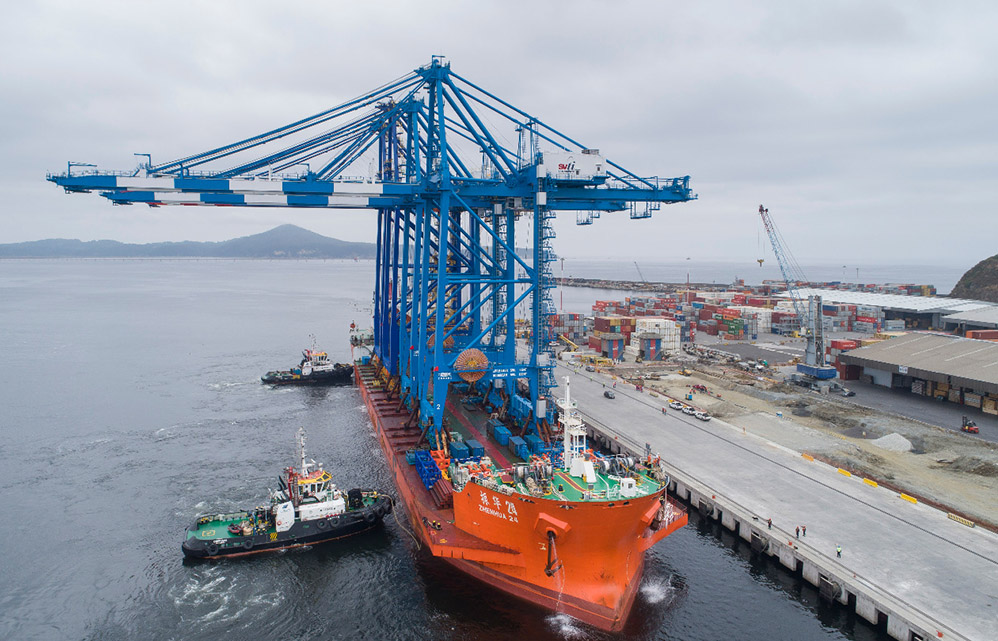 The new equipment, an investment of US$ 20 million, is part of the terminal modernization plan, which includes constructing sites 4 and 5, enhancing site 2 and making improvements to esplanades.
San Vicente, February 16, 2019.
San Vicente Terminal Internacional (SVTI) recorded a new milestone in its modernization plan this morning. Regional authorities, employees and executives welcomed the vessel Zhen Hua 24, which brought two new, state-of-the-art STS gantry cranes to the port, involving an investment of close to US$ 20 million.
"With this new equipment, we can continue improving customer service and efficiently support foreign trade in the region and south central Chile. The arrival of these gantry cranes is a major milestone in the process of modernizing SVTI, which will strengthen our value proposition," commented the CEO of SVTI, Gonzalo Fuentes.
"The cranes are a perfect complement for SVTI, which features a marginal dock that gives us competitive advantages and equipment that boosts productivity at the terminal. It also prepares us to receive cargo for the new projects currently being developed in the region and south central Chile," he highlighted.
The executive added that SVTI's employees have played a key role, participating in training sessions in China, Panama and Mexico: "Nineteen employees now have the necessary tools to operate and supervise crane operations while ensuring safety, an essential value at our terminal."
He also expressed thanks for the joint effort from Empresa Portuaria Talcahuano San Vicente (Emport), whose development vision is in line with the SVTI project.
The acting CEO of Emport, Arturo Morello, pointed out that the new cranes "will complement the terminal's existing equipment, strengthening transfer services and giving foreign trade and cabotage a new opportunity at a port with comparative advantages due to its marginal docks in a sheltered bay, which guarantees operational continuity."
"With this, we aim to further enhance operating conditions in order to serve our customers and users and, at the same time, improve safety conditions for our workers," he added.
The intendent for the Biobío Region, Jorge Ulloa, commented that "he believes SVTI's modernization process is an important step forward that leaves the port of San Vicente very well prepared for the future." He added that "this equipment contributes to the development of the region's economy, strengthening port offerings in both the region and the country." 
About the Cranes
The cranes, which stand 80 meters tall (close to 26 floors), were manufactured by the Chinese company ZPMC. They have a lifting capacity of 100 tons at the cargo hook and a reach of 62 meters (22 rows of containers), which enables them to service vessels up to 50 meters in beam.