SAAM receives two new tugboats to strengthen its fleet in Chile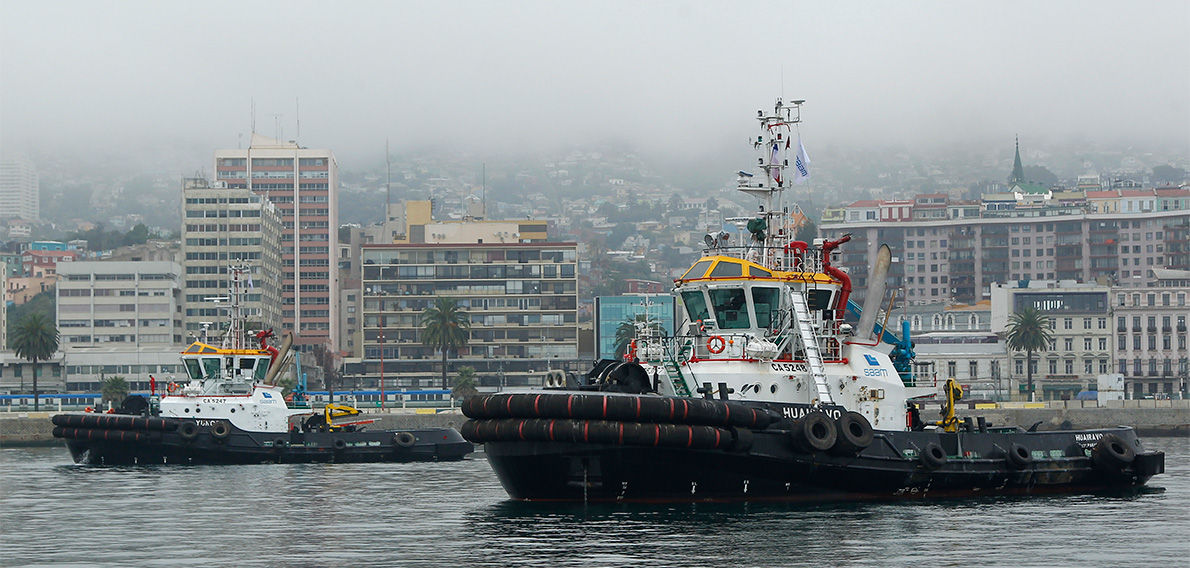 The new vessels, "Yunco" and "Huairavo", arrived in Chile after sailing over the high seas for more than 60 days, becoming the most powerful of the fleet owned by the Company in Chile.
May 05, 2016. After sailing for more than 60 days across the Pacific Ocean from China, the two new vessels –model Robert Allan Rastar 3200- arrived in Valparaiso, for the purpose of strengthening SAAM's fleet in Chile.
The vessels "Yunco" and "Huairavo", were especially outfitted to meet all technical requirements demanded by GNL specialized terminals, particularly in Quintero, where SAAM provides services to LNG TUGS.
Cristián Rojas, Manager of SAAM's Chilean Towage Division, explained that "the arrival of these vessels is framed in our fleet renovation plan. They have state-of-the-art technology and high safety standards, especially equipped to provide the best service in GNL terminals. The features of these new vessels were designed to allow us to have an efficient operation for the next 25 years".
The new vessels were built in the Bonny Fair Heavy Industries shipyard, in China, and are 32 meters long and 12.8 meters wide. They are equipped with General Electric engines and Rolls Royce azimuth propellers, capable of generating a Bollard pull of over 85 tons, making them the most powerful of the fleet. They have winches for constant tension maneuvers, allowing greater safety in the support operations provided to merchant ships arriving at our ports.
SAAM's Towage Division is present in eleven countries throughout the Americas and in more than 70 ports. Its joint venture with Royal Boskalis, SAAM SMIT Towage, allowed it to expand its operations in Brazil, Mexico, Canada and Panama, achieving a total fleet of 188 units, becoming established as the fourth operator worldwide and the leader in the Americas.