SAAM's Chairman of the Board spoke at Exponaval 2016 Felipe Joannon: "We have to recover competitivity"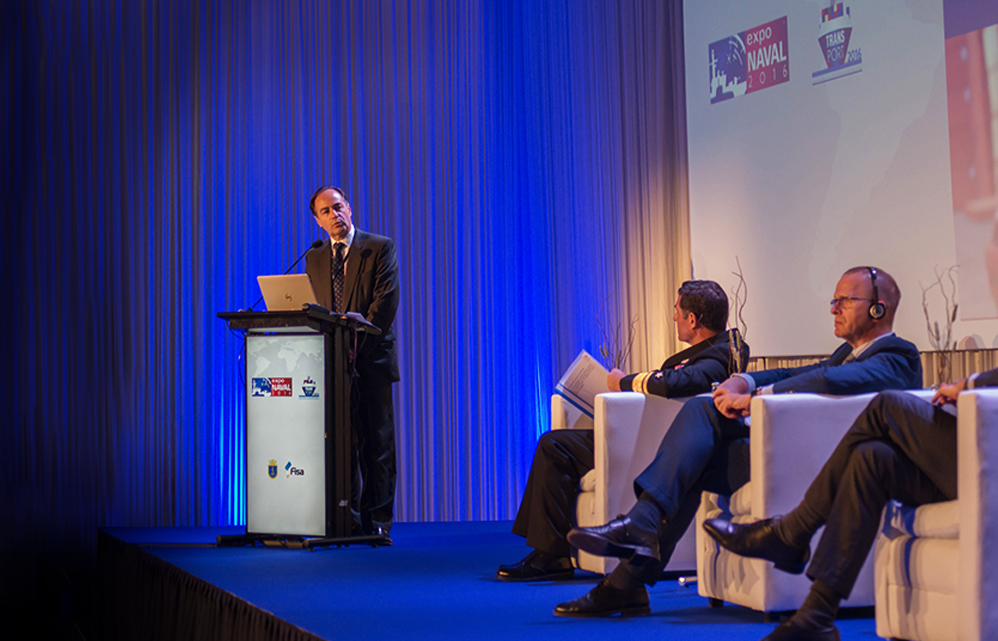 Together with the challenges posed by infrastructure and efficiency, the Executive stressed the importance of making progress in an improved coordination of the logistics chain.
Valparaíso, November 30, 2016. The Chairman of the Board of SAAM, Felipe Joannon spoke today at the Exponaval 2016 International Conference, whose central theme consisted in the challenges of sustainability in the Naval and Maritime industries.
The Executive participated in the first panel together with Andreas Nordseth, Danish maritime authority and Olaf Merk, of the OECD, addressing the issue of how the changes in the shipping industry are transforming the logistic, port and land chains in the country.
"Chile is a country that is open to the world and depends to a great extent on its foreign trade. Therefore, we must be prepared: Port terminals are the way in and out of our country to the world and this imposes a series of challenges regarding the improvement of our infrastructure, the efficiency of our services and labor relations, so that our activity may continue being a mainstay for our commercial exchange," said Joannon.
"All investments and efforts of a port are lost if there is no symmetry with public services, with carriers and logistics spaces. This is a pending challenge that we must deal with as a country," he added.
He stressed that SAAM has made a tremendous effort to face these changes with significant investments in infrastructure – extending docks and renewing equipment-, training its workers and materializing a rapprochement with all its collaborators, in order to achieve greater efficiency and operational continuity.
Globetrotter Container ("Contenedor Trotamundo")
Exponaval will remain open until this coming Friday December 2, and visitors will be able to get to know the Globetrotter Container, an interactive exhibit that seeks to make visible the historical and current relevance of the sea in the daily life of all Chileans. Subsequently, this initiative between SAAM and "Corporación Patrimonio Marítimo de Chile" (Chile's Maritime Heritage Corporation) will be moved to Iquique and Talcahuano.