SAAM began operating the most powerful tugboats in South America's West Coast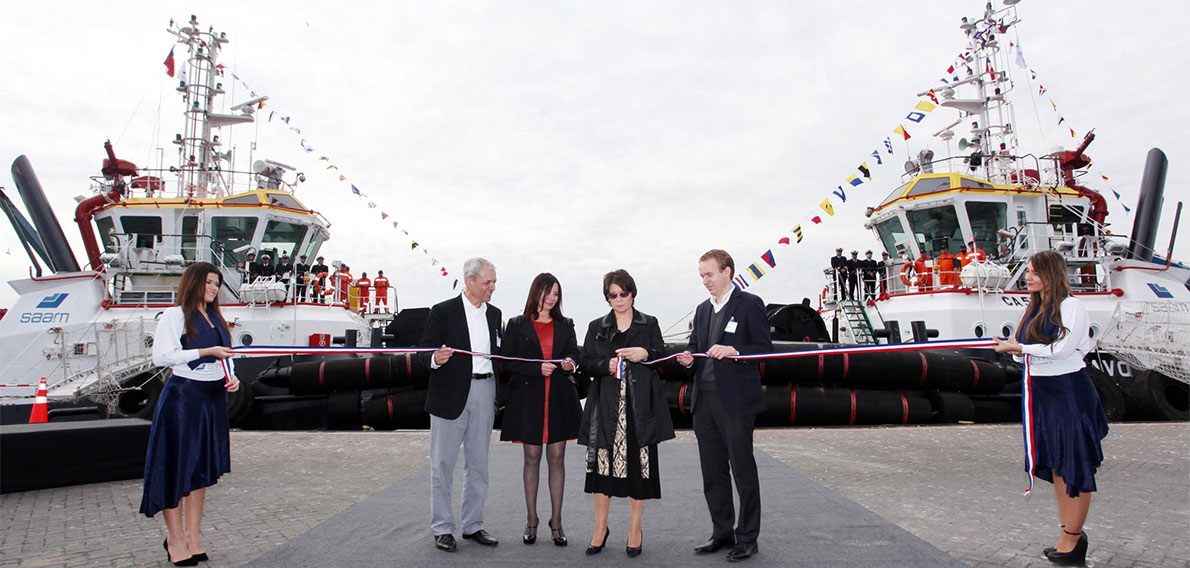 The new vessels, "Yunco" and "Huairavo", will be an addition to the services provided by the company at Quintero Bay.
June 09, 2016. With the traditional ceremony of the blessing of the ships in Valparaiso, SAAM officially started operation the new tugboats "Yunco" and "Huairavo", which are the most powerful tugboats in South America's West Coast.
The vessels, outfitted with all technical requirements demanded by GNL terminals, arrived last month to the country, after having sailed more than 60 days across the Pacific from China, and joined the maneuvers carried out by the Company in Quintero Bay.
This activity was attended by authorities, representatives of Company clients, suppliers, the Navy, SAAM Executives and personnel, and was headed by the Manager of the Chilean Towage Division, Cristian Rojas, who stressed that "these new units are part of the renovation and growth plan of our fleet, in response to the needs imposed by the arrival of large container freight ships", to the narrower maneuver areas in some of the country's ports, and to the increasing safety demands in specialized terminals, dealing mainly with fuel and gas".
The Executive added that "with these 2 units, we have added 4 vessels of the highest standards to the Chilean fleet in the past 24 months and, in the near future, we will incorporate 2 other tugboats that have already been embarked in a cargo ship, whose arrival is expected in the country within the next few weeks".
The tugboats blessed in the ceremony were built in the Bonny Fair Heavy Industries shipyard, in China, and are 32 meters long and 12.8 meters wide. They are equipped with General Electric engines and Rolls Royce azimuth propellers, capable of generating a Bollard pull of over 85 tons, making them the most powerful of the fleet. They have winches for constant tension maneuvers, allowing greater safety in the support operations provided to merchant ships arriving at our ports.
SAAM Towage Division is present in twelve countries throughout the Americas and in more than 70 ports. It has a fleet of more than 180 tugboats, which makes it the fourth worldwide operator and the leader in the Americas.