TPG Welcomes Megaship to Inaugurate New Works in Guayaquil Port Access Channel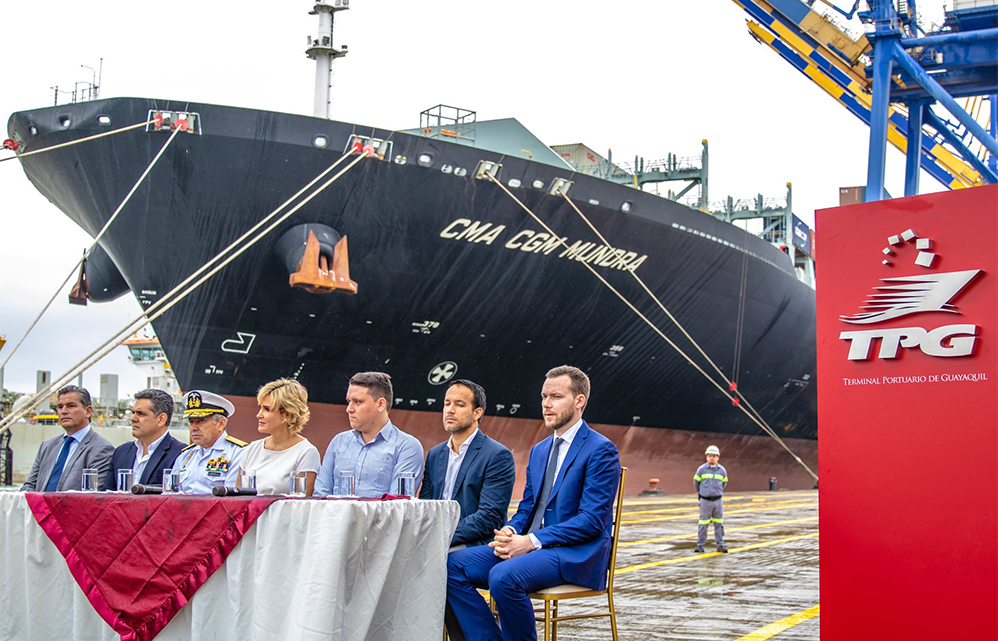 Thanks to work to deepen the access channel, the port can now accommodate ships with higher drafts, demonstrated by the docking of CMA CGM Mundra.
Guayaquil, October 18, 2019. Terminal Portuario Guayaquil (TPG), a SAAM Puertos company, welcomed the CMA CGM Mundra, belonging to the French shipping line of the same name. As the first ship to sail through the renovated access channel, the operation marks a milestone for both the port and the city. The dredging project required an investment of US$ 100 million and increased the channel's depth from 9.75 to 12.5 and even 13 meters in some areas, allowing higher draft vessels–of up to 15,000 TEUs–to reach Guayaquil, a port that moves 85% of Ecuador's non-oil goods.
The CMA CMG Mundra measures 335.93 meters in length, 48.3 meters in beam and has a capacity of 10,100 TEUs. It is one of the two largest ships that dock at Ecuadorian ports, both of which belong to the shipping line CMA CGM and operate at TPG.
Today, Ecuadorian port authorities held an official ceremony to celebrate the completion of the channel dredging work. The event was led by the Undersecretary of Ports and Sea and River Transportation, Eduardo Aguirre.
"This milestone marks the beginning of a new era for all the city's terminals, allowing us to more efficiently support foreign trade in Ecuador. It is a product of the virtuous public-private alliance that we have forged. For TPG in particular, it will help us continue to consolidate ourselves as one of the main ports in the region," commented TPG's CEO, Luis Enrique Navas.
The executive also pointed out that the terminal is extending its wharf by 180 meters, bringing its total length to 720 meters (660 meters of wharf and 60 meters of berthing dolphin). These works involve an investment of more than US$ 10 million and are expected to be ready by the first quarter of 2020.
"We are strategically located close to consumption and production centers, which is a competitive advantage that gives us a value offering that we want to continue fortifying," Navas added.
About TPG
Terminal Portuario Guayaquil is a private port operated by SAAM since 2006. It provides services at the foot of the Santa Ana Estuary in Isla Trinitaria, a suburb of the city of Guayaquil, Ecuador.
Its main containerized cargo includes bananas, shrimp and cocoa for export, as well as retail imports.
About SAAM
SAAM is a multinational corporation providing services for international trade through its three divisions: Port Terminals, Towage and Logistics.
With 58 years in business, SAAM has operations in 12 countries in North, Central and South America. It is one of the leading operators of port services in South America and of towage services in the world.