TPG and Ecuadorian Government Sign Investment Agreement for US$ 23 Million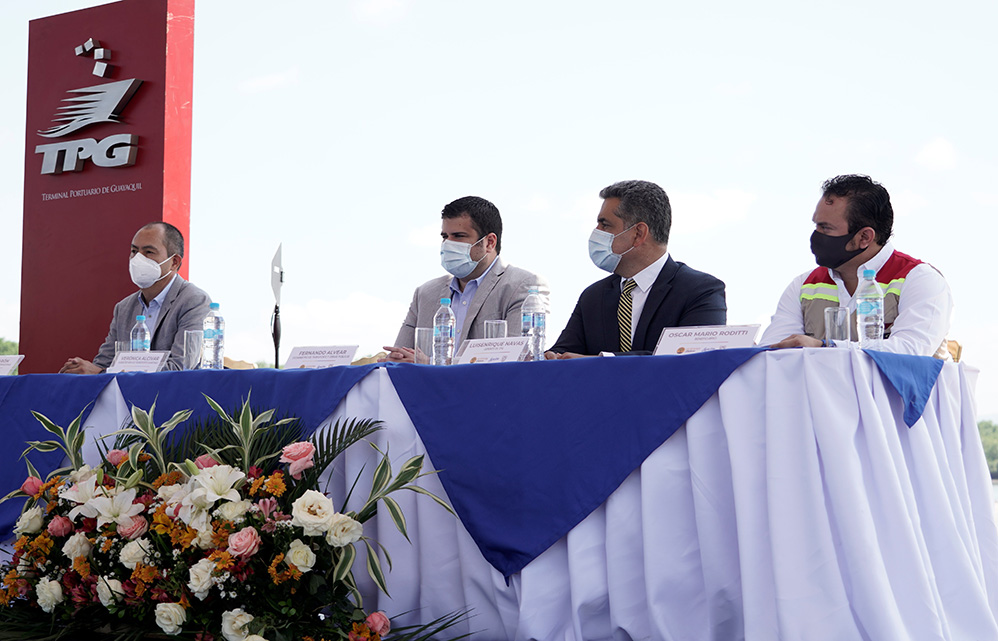 The Undersecretary for Maritime Transport, Verónica Alcívar, and the Vice Minister of Transportation and Public Works, Fernando Alvear, visited Terminal Portuario Guayaquil to close an investment agreement for US$ 23 million. The chief announcement was the acquisition of a new Super Post Panamax crane to complement other investments already made, including extending the berth, dredging and purchasing new equipment valued at close to US$17 million.
"This demonstrates that joint work between the public and private sectors is very important to the development of our city," said Alcívar, who then added that "collaboration will be a determining factor to back Ecuador's dollarization and its economy," where, by the way, the export sector grew 7%.
TPG's General Manager, LuisEnrique Navas, highlighted the importance of the port's work, throughout the entire supply chain and direct and indirect businesses, which sustains hundreds of Ecuadorian families who need it today more than ever. "The people of Guayaquil are sea people and sea people move the world by doing essential work every day. This has been evident during the pandemic as our entire team has played a key role in keeping the logistics chain running. We are committed to Ecuador and foreign trade," he commented.
Finally, Alvear remarked, "I would like to thank TPG for its continued trust in the country. This port is going to be the largest in the region."
The agreement is part of the fiscal benefit program offered by the government to drive investment in infrastructure and new technologies. In TPG's case, the primary focus is to boost development and strengthen Guayaquil as an area of influence for foreign trade along the Pacific Coast.
The Super Post Panamax crane is scheduled to join the terminal's existing five cranes in the first quarter of 2022.