San Antonio Terminal Internacional Receives "Tucapel González García" Award for Excellence in Workplace Safety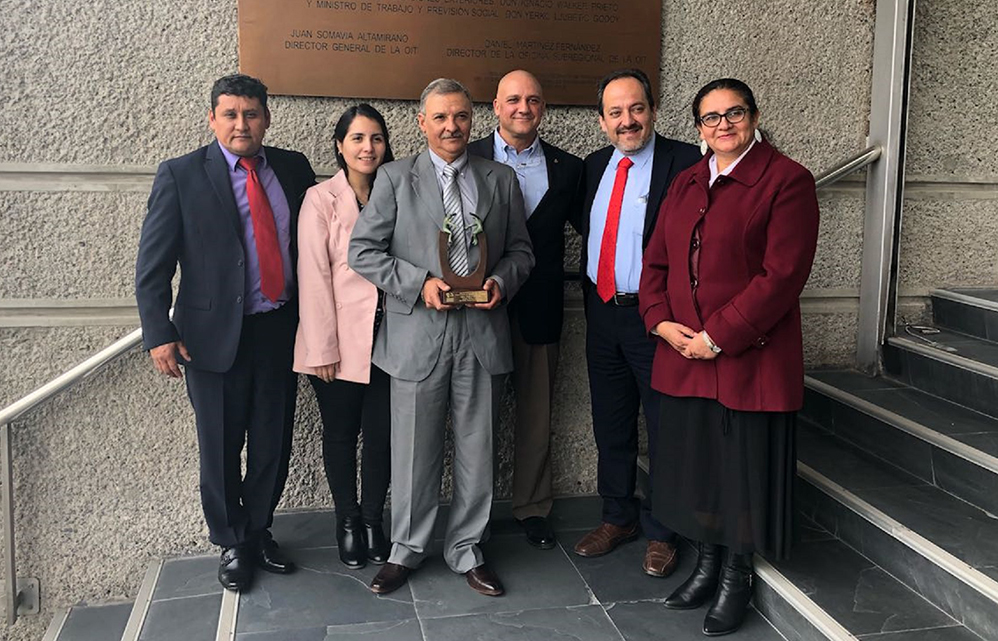 The Superintendency of Social Security (Suseso) recognized the preventative culture that the port terminal has developed thanks to its employees' effort and commitment.
San Antonio, April 27, 2018. As part of World Day for Safety and Health at Work, the Superintendency of Social Security (Suseso) presented San Antonio Terminal Internacional (STI) with the prestigious "Tucapel González García" Workplace Safety and Health Management award, in the medium-sized company category, for excellence in safety and risk prevention matters.
The accolade was presented by Superintendent Claudio Reyes to STI's CEO, José Iribarren, and part of his team on behalf of all terminal employees.
"This recognition fills us with pride and provides incentive to continue our work on this matter. Safety is a daily, ongoing task that we cannot neglect. We must continue working together to put self-care at the center of what we do. This achievement was possible thanks to our 950 workers who go beyond regulatory compliance and are committed to a preventative culture and understand that this is an ongoing challenge," Iribarren remarked.
In order to achieve and maintain its safety performance, STI implemented a special work model with an occupational health and safety system based on three core concepts: executive management, operational control and occupational health.
The model also called for intensifying prevention-related activities, defining management indicators at executive and operational levels, increasing training activities and strengthening Joint Committees on Hygiene and Safety. This plan enabled the company to reduce its accident rates between 2014 and 2017 by 88.4% for lost-time accidents; 88.8% in frequency and 72% in severity.
The "Tucapel González García" award has been given by the Suseso since 2005 to recognize those companies or institutions with exceptional preventative management of workplace risks within their organization. The value of this recognition stems from the fact that the winning companies are selected by the safety associations themselves (ACHS, IST, Mutual and ISL) based on yearly records on workplace accidents.