Commitment to Sustainability
At SAAM we define sustainability as a social and environmental commitment to people and the planet.
We strive to meet present needs without compromising the capacity of future generations by integrating environmental, social and governance (ESG) variables into our operations and businesses.
As part of our CSR-based management, we are committed to implementing sustainability best practices and integrating the Global Compact principles and Sustainable Development Goals (SDGs), into our corporate strategy.
Core Sustainability Areas
We are convinced that to be a successful, profitable company in the long run, we must make sustainability part of our DNA. To accomplish this we have defined five areas where we will leverage our actions and commitments: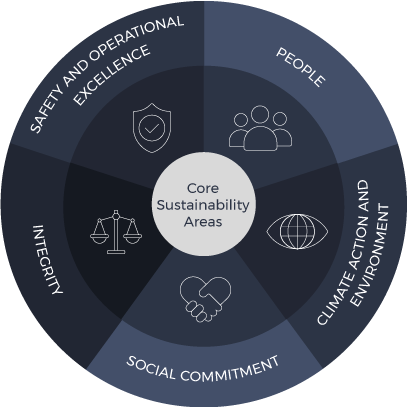 These areas are aligned with our business strategy and set the course for efficient, responsible operations that strengthen the company's long-term competitiveness and contribute to the Sustainable Development Goals.


Contact Us
Av. Apoquindo 4800
Torre II, 18th Floor
Las Condes
Santiago, Chile